Warsaw, the capital and largest city of Poland, has a population of 1.7 million. The entire Warsaw agglomeration has around three million inhabitants. The city covers an area of 517 km2, while the whole metropolitan area stretches over 6,100 km2. Warsaw is a major international tourist destination and a significant cultural, political and economic hub. The main pillars of its economy are manufacturing, media/digital ventures and financial services.
Warsaw is recognised for sharing a profile of cultural, political and economic growth with London. The challenge for Warsaw is to retrofit a smart city in a large and densely populated area. Electric vehicles and charging points feature high in the city's plans to improve its urban environment. Warsaw also aims to install smart lampposts and a new energy management system, and it plans to embrace the smart sharing economy concept as part of its smart city planning.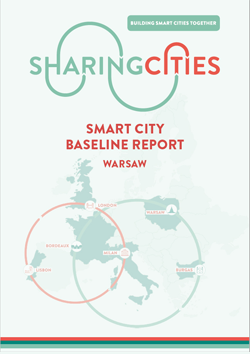 The Sharing Cities 'lighthouse' project is a proving ground for a better, common approach to making smart cities a reality. By fostering international collaboration between industry and cities, the project seeks to develop affordable, integrated, commercial-scale smart city solutions with a high market potential. In the first phase, the demonstration districts in 'lighthouse' cities Lisbon, London and Milan implemented replicable smart city measures, namely building retrofit, electric mobility, sustainable energy management systems, smart lampposts, urban sharing platforms, and digital social markets. Then, 'fellow' cities of Bordeaux, Burgas and Warsaw have been co-designing, validating, and/or implementing these solutions and models.
WARSAW'S REPLICATION STRATEGY
Warsaw has been a frontrunner in ICT emissions reduction.

Around 2010-2011, Warsaw started to implement smart measures.

Slowly, it became involved with the European Innovation Partnership on Smart Cities and Communities, as well as beginning an active cooperation with EUROCITIES in this field.

The city was already acquainted with the concept of the smart city but held more theoretical knowledge and needed help to move onto concrete steps, which Sharing Cities provided.

2016: workshop in Brussels dedicated to replication.

Then the city started creating the replication strategy with building retrofit and e-mobility as their first priorities, since it stayed in the scope of the one department.

A team dedicated to the project was formed.

Meetings with other departments (transport, architecture, road department) were held. Some people from these departments participated in mentoring visits as well.
INTERESTED IN LEARNING ABOUT REPLICATION?
Our Replication Handbook gathers and synthesises the insights and lessons from the experiences of the fellow cities. It presents the softer lessons that revolve around smart city solutions. More than a technical document, this handbook  provides general guidance for cities thinking about implementing smart city measures. 
DISCOVER THE CITY PROFILES: