DEMONSTRATION AREA: ROYAL BOROUGH OF GREENWICH
The capital city of the United Kingdom unveiled the Smart London Plan in 2011. It helps the Greater London Authority (GLA) shape and implement its strategy for how to apply technology to all areas of city policy (transport, energy, social and infrastructure policy). As smart technology becomes increasingly prominent in the urban planning discourse, the London Infrastructure Plan 2050 focuses on how technology and data can influence the future design and efficient operation of the city's assets and how the related regulatory and market issues should be tackled. The London DataStore is a hub for the city's growing ecosystem, which has generated numerous examples of how data can be used to manage and plan city operations.
The Royal Borough of Greenwich, one of the 32 London boroughs, is implementing the Sharing Cities programme in London. The Borough is recognised as a leading local council in the Smart City field, and the first London Borough to introduce a Smart City Strategy. Launched in October 2015, it has four key components: transforming neighbourhoods and communities; transforming infrastructure; transforming public services; and transforming the Greenwich economy. Citizen engagement is a core priority across all four themes.
DISTRICT'S SMART CITY DEVELOPMENT FOCUS
The Greenwich demonstrator area is one of the most strategic locations in London and one of London's six 'growth boroughs'. The borough combines visitor attractions, such as the O2 entertainment arena, a new business start-up district, existing and new residential sites, and considerable water frontage. There are many transformation projects currently being implemented or scheduled in the area, such as the redevelopment of the peninsula and transport interchange, and the testing of autonomous vehicles.
District's smart city development focus
•  Citizen-centric framework; with needs and aspirations of citizens driving all aspects of the Borough's approach to service transformation
•  Infrastructure for change: improving connectivity and a fast, affordable digital infrastructure
•  Resource-efficient, low-carbon, healthy and liveable neighbourhoods
•  Improved mobility and accessiblity
•  Modal shift towards more sustainable mobility systems – walking, cycling and electric vehicle sharing schemes
•  Economic growth and higher value jobs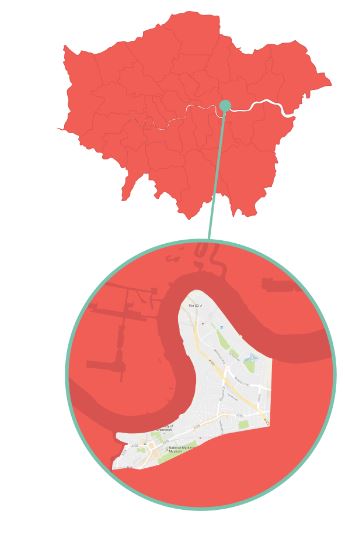 SHARING CITIES MEASURES IN LONDON
The Royal Borough of Greenwich is installing renewable energy generation such as solar panels and exploring options for sourcing heat from the River Thames to provide locally generated energy with lower emissions and greater energy security. The works are carried out in conjunction with building fabric improvements, improved heating systems and energy efficient lighting across the borough.
In an effort to encourage modal shift away from cars, the borough has implemented a business model and service for e-cargo bikes, and introduced an e-bike sharing scheme allowing residents and car owners to rent an e-bike for a month, and later opt to buy the bike at a discounted price. The success of the scheme has led to an expansion of the fleet to 30 e-bikes and a wider geographical coverage. The scheme was also integrated into the borough's cycle training programme. The borough has upgraded its lamp posts with LED lighting, electric vehicle (eV) charging points and smart parking sensors connected in an integrated system. The introduction of eVs and smart parking is designed to improve air pollution and reduce congestion. E-vehicle and coach parking spaces are equipped with sensors integrated into the road surface and which communicate occupancy in real time (either available or occupied) to a local network via a communication hub installed on a lamppost. This information is used to make informed policy decisions.
London is a city that experiences a daily double-peak in electricity demand. These peaks put enormous pressure on the power network. The Greenwich Energy Hero Digital Social Market initiative (DSM) incentivises residents to use electricity more efficiently at home by reducing peak demand. This DSM gives points to users who adapt their electricity use at home when demand exceeds supply from the national grid. Users can also access information on their electricity use, get energy saving tips, and review their 'hero status'. The DSM uses a reward system to allow users to claim the savings as vouchers or donate to a local charity.
The new Urban Sharing Platform implemented in Greenwich is a successful example of how data from a broad range of suppliers including smart parking, e-bikes, eCargo bikes, eV charging and sustainable energy sources can be combined and appropriately shared to demonstrate CO2 and financial savings.
SHARING CITIES IN NUMBERS: LONDON
• 757 TCO2/YEAR SAVED
• FULLY FUNCTIONING SUSTAINABLE ENERGY MANAGEMENT SYSTEM (SEMS)
• 30 E-BIKE LOAN SYSTEM, 6 ELOGISTICS VEHICLES, 21 COUNCIL OWNED ELECTRIC CARS AND 93 SMART PARKING BAYS
• 58 EV CHARGING POINTS AND 30 LAMP POST CHARGING POINTS
• 400 SMART LAMP POSTS AND COUNTING
• A DIGITAL SOCIAL MARKET: 'GREENWICH ENERGY HERO
DISCOVER THE CITY PROFILES: