A NEW FRAMEWORK FOR CITIZEN ENGAGEMENT
The Sharing Cities 'lighthouse' programme is a proving ground for a better, common approach to making smart cities a reality. By fostering international collaboration between industry and cities, the project seeks to develop affordable, integrated, commercial-scale smart city solutions with a high market potential. The project partners work in close cooperation with the European Innovation Partnership on Smart Cities and Communities and with other `lighthouse` consortia.
Sharing Cities offers a framework for citizen engagement and collaboration at local level, thereby strengthening trust between cities and citizens. The project draws on €24 million in EU funding. It aims to trigger €500 million in investment and to engage over 100 municipalities across Europe.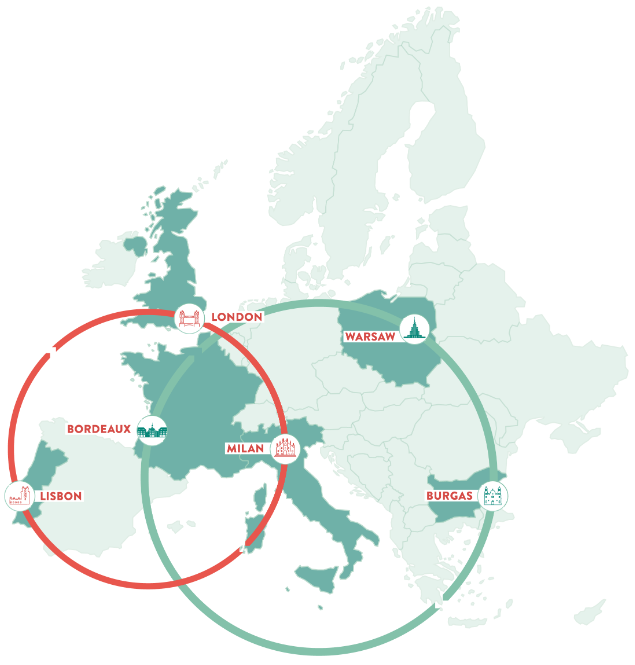 PEOPLE – PLACE – PLATFORM
Sharing Cities aims to demonstrate how thoughtfully designed, integrated, open source solutions can be developed to serve the interest of the citizens in an affordable and scalable manner. It is built on the three key principles of People, Place, Platform:
PEOPLE: User-centric smart city services co-designed with citizens
PLACE: Infrastructure solutions for low-energy districts, e-mobility, retrofitting of buildings, installation of sustainable energy management systems and smart lamp posts
PLATFORM: Urban sharing platform based on open data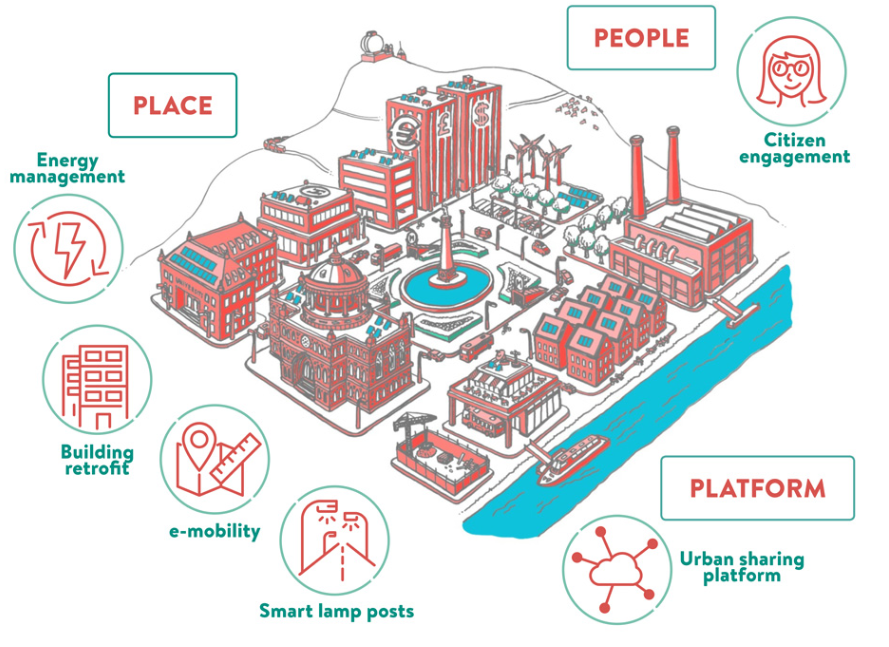 6 CITIES AND 34 PARTNERS COMPOSED OF INDUSTRY REPRESENTATIVES,
NON-GOVERNMENTAL ORGANISATIONS AND ACADEMIA FROM ACROSS EUROPE
COORDINATOR: GREATER LONDON AUTHORITY
'LIGHTHOUSE' CITIES: LISBON – LONDON – MILAN
'FELLOW' CITIES: BORDEAUX – BURGAS – WARSAW
DISCOVER THE CITY PROFILES:





million
Expected private capital
IMPRESSIVE RECORD OF DELIVERY
• E-mobility measures: On course to achieve 1,916 tCO2 savings, 70% over-delivery
• Reduction of 6,124,494 kWh/yr through retrofitting buildings
• Completed pioneering energy retrofit of Lisbon's iconic City Hall
• First water sourced heat pump on public housing
• Real-time data fed to the London Datastore
• Privacy Impact Assessment
• Led on the development of European and UK smart cities networks