Burgas is the fourth largest city in Bulgaria. It is a major economic, administrative, and cultural centre and a key logistics and transport hub. Situated on the Black Sea, in the South-Eastern part of the country, Burgas has 210,000 inhabitants and boasts an exceptional biodiversity. The city encourages entrepreneurship and is home to several universities. Burgas is a fast developing city with increasing potentials and needs. The Orient/East-Med corridor axis means the city is a major and growing logistics point in the country for sea, air, rail and road. 
The planned smart parking system and the introduction of e-mobility solutions will greatly benefit the city's growth. Burgas encourages digital entrepreneurship through its business friendly strategies. The city faces recurrent environmental and sustainability challenges of flood risk management. The city's key priorities include: transport (ITMS, electric vehicles, data management); energy efficiency (smart management of urban areas, including street lighting, waste management, rainwater re-use, flood management); integrated infrastructure (waste, water, traffic etc); and citizen participation.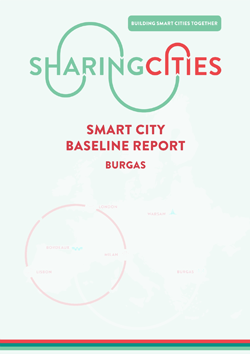 The Sharing Cities 'lighthouse' project is a proving ground for a better, common approach to making smart cities a reality. By fostering international collaboration between industry and cities, the project seeks to develop affordable, integrated, commercial-scale smart city solutions with a high market potential. In the first phase, the demonstration districts in 'lighthouse' cities Lisbon, London and Milan implemented replicable smart city measures, namely building retrofit, electric mobility, sustainable energy management systems, smart lampposts, urban sharing platforms, and digital social markets. Then, 'fellow' cities of Bordeaux, Burgas and Warsaw have been co-designing, validating, and/or implementing these solutions and models.
BURGAS'S REPLICATION STRATEGY
Burgas was already leading some smart measures, without attaching it to a smart city strategy.

It began in 2010 with mobility as a starting point. The measure encompassed bus fleet renewal and the creation of an intelligent system related to traffic management, electronic ticketing, and real time passenger information system among other features

.
Other measures came, and soon the city realised it could group all the measures with an urban sharing platform.
Sharing Cities was an opportunity to gather all the measures under one initiative.
Innovative Systems Burgas was created. It is an external company that is 100% municipal-owned. Using such a mechanism allows for more flexibility and, in the case of Burgas, helped the city to concentrate its efforts.
Peer-learning visits were organised in the lighthouse cities.
Burgas identified the main priorities according to:
– Citizens' needs;
– The local context: what is strategic for Burgas' sustainable development? In terms of municipal strategic planning, territorial connectivity, urban, social and educational infrastructure, etc.
INTERESTED IN LEARNING ABOUT REPLICATION?
Our Replication Handbook gathers and synthesises the insights and lessons from the experiences of the fellow cities. It presents the softer lessons that revolve around smart city solutions. More than a technical document, this handbook  provides general guidance for cities thinking about implementing smart city measures.
DISCOVER THE CITY PROFILES: