DEMONSTRATION AREA:

DOWNTOWN
Lisbon has a smart city strategy which sets the citizens and their needs at its core. Technology is just a means to an end: the city aims to become sustainable, competitive, participatory, creative, innovative and citizen-centric.
Lisbon has drafted an urban development strategy for the coming decades, and has committed to invest €307 million in related projects (Programa Operacional Regional de Lisboa 2020). The strategy's main objectives are to attract more inhabitants by improving the quality of housing, offering smart living services and smart ageing opportunities; boosting the economy and increase employment by investing in R&D, attracting more entrepreneurs; broadening access to higher education; and improving the quality of life in the city through measures for energy efficiency, mobility and social cohesion. Local regeneration and citizen participation are also core city priorities.
DISTRICT'S SMART CITY DEVELOPMENT FOCUS
Lisbon's demonstration area stretches from the riverfront to the centre of the city, including the main tourist and historic districts. It has several specific challenges, ranging from its particular topography to the historic nature of its buildings, many of which date from the 18th-19th centuries. The area also has an ageing population.
Retrofit of buildings is at the forefront of city priorities, with financial and tax incentives to support this activity, and significant headway has been made in the demonstration area. The demonstration area is a low emission zone, and regulations have recently been adopted to promote improvements in air quality, the adoption of electric vehicles and the use of public transport.
District's smart city development focus
• Improved mobility: a low-emission zone, better air quality, higher adoption of e-vehicles and public transportation
• Improved municipal services: network of district monitoring sensors and district monitoring data platform
• Building retrofit: incentives for refurbishment to improve energy efficiency and building resilience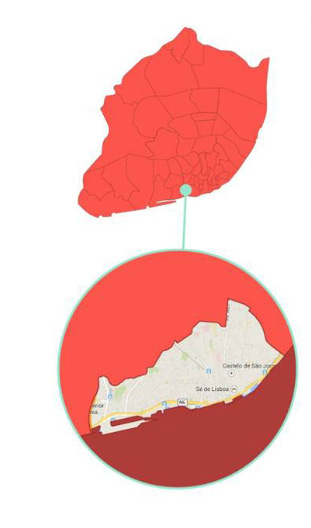 SHARING CITIES MEASURES IN LISBON
Known for its hilly topography, the implementation of an electric bike sharing scheme in Lisbon managed via the Sharing Lisboa app has transformed the way people think about moving around the city. The scheme saw an uptake of 1,260 users and over 16 000 km travelled in its first 6 months. A realtime incentive-based system generates offers for users to move bikes from overcrowded docking stations to meet demand forecasted in other locations. The city now plans to further expand e-bikes across the city and into the suburbs, with bike lanes expected to double (to almost 200km) by 2022. 
160 EVs have been procured by the municipality of Lisbon for a car sharing scheme. The service uses a keyless sharing app that allows members of the public to access the vehicles. The vehicles are monitored via GPS and managed through a smart fleet management platform. 
The Lisbon City Hall building, due to its architectural and artistic value, is a classified and one of the most iconic buildings in the city. The decision of energy efficiency-oriented retrofit in this building is a living example of how a working public service building can improve its energy behaviour and still maintain the architectural features of historical Town Halls. The Lisbon City Hall retrofit intends to provide a rich case study, offering high replication potential to other cities that facing similar challenges. 
Lisbon's Urban Sharing Platform (USP) uses a real-time IoT broker connected through a single API to different data providers and service layers. This solution has demonstrated that information from a broad range of data providers may be easily integrated, including smart parking, eV charging, energy sources (e.g. public buildings, personal consumptions, aggregated city energy consumption, street lighting) and urban waste. The Lisbon USP focuses on data aggregation, access unification, reusability and replication, and is expected to expand to other cities. This process enables the municipality to deliver services more efficiently, respond faster to issues, and spot trends from sensor data to inform city policy. 
The city has retrofitted and upgraded 4,000 lamp posts to LED, linking them to a LoraWAN network infrastructure. The lamp posts are also equipped with environmental sensors to monitor air quality temperature or humidity levels. 
Lisbon's Digital Social Market (DSM) connects the city with local businesses, citizens and a third-party beneficiary to address sustainable behaviour change. The beneficiary in this case was a network of schools who used the platform to compete for city funding. This has enabled them to green their school infrastructure through sustainability-focused 'packages' of equipment or services to help improve their energy efficiency and encourage environmental awareness.
SHARING CITIES IN NUMBERS: LISBON
• REDUCTION OF 1,399,265 KWH/YR AND 597 TCO2/YR SAVED THROUGH RETROFITTING BUILDINGS
• DEEP ENERGY-EFFICIENCY RETROFIT OF HISTORIC LISBON CITY HALL LEADS TO 36% ENERGY SAVINGS AND 50% REDUCTION IN ELECTRICITY USAGE FROM THE GRID
• E-BIKE SHARING SCHEME GENERATED OVER 3 MILLION TRIPS BY 16,000 USERS AND 292 TCO2 EQ. SAVINGS
• THE SCHEME LED TO A 38% MODAL SHIFT FROM THE BUS, 16% FROM CARS, AND GENERATED 20% NEW TRIPS. 26% OF USERS USE THE SCHEME DAILY
• PLANNED CITYWIDE E-BIKE SCHEME EXPANSION TO MORE THAN 200 STATIONS AND 2000 BIKES, 80% OF WHICH WILL BE ELECTRIC
DISCOVER THE CITY PROFILES: