Bordeaux metropolis has 750,000 residents. It is France's 6th largest urban area and is the most attractive city in France to live and work (Foncière des regions report – Nov 2014), having undergone a thorough urban and economic metamorphosis. Designated by UNESCO as a World Heritage Site and recognised as the world's major wine industry capital (representing around half of the local economic base), Bordeaux is also one of the leaders in higher education and a pioneer in digital and green development. In October 2015, Bordeaux hosted the Intelligent Transport Systems World Congress.
Bordeaux is a city both ancient and modern; recognised as centre of excellence for Smart City initiatives, the digital and green economies. Energy management and smart lighting are key priorities for the city. With strong support for citizen engagement and e-mobility, Bordeaux is also interested in data sharing and building retrofit.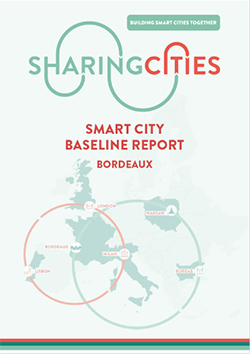 The Sharing Cities 'lighthouse' project is a proving ground for a better, common approach to making smart cities a reality. By fostering international collaboration between industry and cities, the project seeks to develop affordable, integrated, commercial-scale smart city solutions with a high market potential. In the first phase, the demonstration districts in 'lighthouse' cities Lisbon, London and Milan implemented replicable smart city measures, namely building retrofit, electric mobility, sustainable energy management systems, smart lampposts, urban sharing platforms, and digital social markets. Then, 'fellow' cities of Bordeaux, Burgas and Warsaw have been co-designing, validating, and/or implementing these solutions and models.
BORDEAUX'S REPLICATION STRATEGY
Participating in Sharing Cities led to the creation of a Smart City task force to gather existing projects under a single umbrella.

Focus groups dedicated to smart city measures have been created. Through these, people from different departments regularly work together on cross-sectorial topics.

Peer-learning visits were organised in the three lighthouse cities and were extremely well attended by representatives from the mobility, energy, and public lighting departments.

Then, measures were chosen depending on the skills of the available and interested employees and among subjects on which Bordeaux had not already invested a lot. 

Mentoring visits were organised during which new persons integrated the project. 
INTERESTED IN LEARNING ABOUT REPLICATION?
Our Replication Handbook gathers and synthesises the insights and lessons from the experiences of the fellow cities. It presents the softer lessons that revolve around smart city solutions. More than a technical document, this handbook  provides general guidance for cities thinking about implementing smart city measures. 
DISCOVER THE CITY PROFILES: